Detalles Rápidos
Lugar de origen: Zhejiang, China (continental)
Marca: SUNTREE / OEM
Número de modelo: S19, S19
Nivel de protección: IP67
Max. Actual: 10A
Max. Voltaje: 500 V, 250 V
Instale el agujero: 12 mm 16 mm 19 mm 22 mm 25 mm 30 mm
Color: blanco amarillo azul verde rojo naranja
Forma del actuador: plano
El material: acero inoxidable
Configuración de contacto: 1NO o 1NC o 1NO1NC o 2NO 2NC
Resistencia de contacto: ≤50mΩ
Material de contacto: aleación de plata
Vida mecánica: 1,000,000 ciclos
Caracteristicas:

Plano / Cóncavo
Variedad de color
Momentáneo / Enclavamiento
Anti-Vandal IK09 / Sellado IP67
Iluminado y no iluminado
Código de orden
Momentáneo: Significa que cuando presiona el interruptor y luego mueve su dedo, el actuador regresará a la posición original.
Enclavamiento: Significa que cuando presiona el interruptor una vez cambiará de estado y permanecerá en esta posición empujada hacia abajo y no volverá a la posición original a menos que lo presione nuevamente.
Datos técnicos
Type

S19-F

S19-F-R

S19-F-D

Illuminated Options

Non-Illuminated

Ring

Dot

Max. Panel Thickness:

0.394" (10.0mm)

Terminal

Pin(2.8x0.5)

Max. Switch Rating

5A/ 250VAC

Contact Resistance

≤50mΩ

Insulation Resistance

≥1000mΩ

Dielectric Strengh

2000VAC

Operation Temp.

-20°C ~ +55°C

Mechanical Life

1,000,000cycles

Electrical Life

>50,000cycles

Contact Material

Silver Alloy

Torque

5 ~ 14Nm

Operation Pressure

3 ~ 8N

Protection

IP65

Material

Actuator

Stainless Steel/ Anodized Aluminum

Body

Stainless Steel/ Anodized Aluminum

Base

PA

Color

Type

LED (ratings @ 20mA)

Color

R-Red

Y- Yellow

O- Orange

G- Green

B- Blue

W- White

Luminous Intensity (mcd)

160

200

150

520

220

2000

Forward Volatge

1.8~2.6

2.8~3.6

Illumination Voltage

no suffix No resistor fitted. An appropriate resistor must be series connected by the user. Voltages as above.

6V/ 12V/ 24V/ 36V/ 110V/ 230V

Life

Approx. 40, 000hours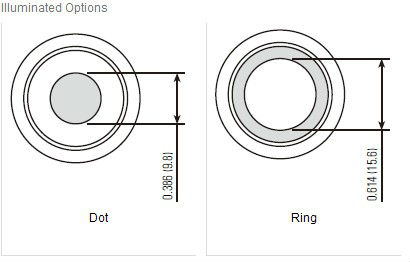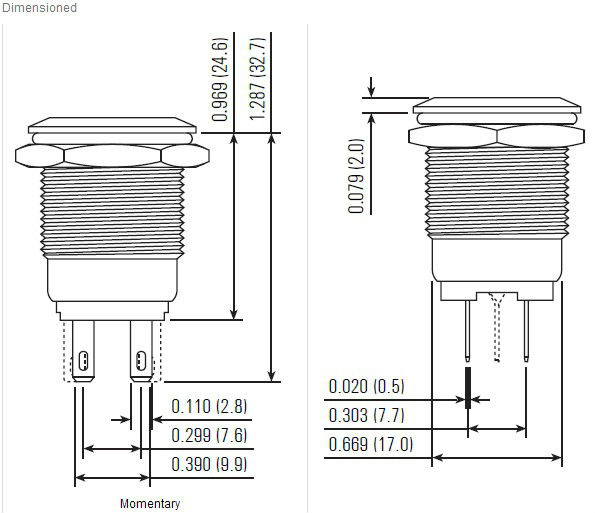 Interruptor de botón de acero inoxidable 22 mm 19 mm 1no anillo 1nc Interruptor de botón de metal iluminado 6 pines 12 voltios
Forma frontal plana
Tornillo / Pin de terminal (2.8X0.5)
Max.Switch Rating 2A 48VDC
Resistencia de contacto ≤50MΩ
Resistencia de aislamiento ≥1000MΩ
Dielectric Strengh 2000VAC
Operación Temp.-20 ~ + 55
Vida mecánica 1, 000, 000 ciclos
Electric Life 200, 000cycles
Material de contacto Aleación de plata
Tipo de enclavamiento: cuando empuja, el actuador está encendido y bloqueado; cuando empuja el segundo, el actuador vuelve a la posición original.
Tipo momentáneo: cuando empuja el actuador, el botón está encendido; después de que los dedos se quitan, el actuador vuelve y se apaga.
Datos técnicos de 16 mm
Type

S16-F

S16-F-R

S16-F-D

Illuminated Options

Non-Illuminated

Ring

Dot

Max. Panel Thickness:

0.394" (10.0mm)

Terminal

Pin(2.8x0.5)

Max. Switch Rating

5A/ 250VAC

Contact Resistance

≤50mΩ

Insulation Resistance

≥1000mΩ

Dielectric Strengh

2000VAC

Operation Temp.

-20°C ~ +55°C

Mechanical Life

1,000,000cycles

Electrical Life

>50,000cycles

Contact Material

Silver Alloy

Torque

5 ~ 14Nm

Operation Pressure

3 ~ 8N

Protection

IP65

Material

Actuator

Stainless Steel/ Anodized Aluminum

Body

Stainless Steel/ Anodized Aluminum

Base

PA

Color

Type

LED (ratings @ 20mA)

Color

R-Red

Y- Yellow

O- Orange

G- Green

B- Blue

W- White

Luminous Intensity (mcd)

160

200

150

520

220

2000

Forward Volatge

1.8~2.6

2.8~3.6

Illumination Voltage

no suffix No resistor fitted. An appropriate resistor must be series connected by the user. Voltages as above.

6V/ 12V/ 24V/ 36V/ 110V/ 230V

Life

Approx. 40, 000hours
Datos técnicos de 22 mm
Type

S22-F

S22-F-R

S22-F-D

Illuminated Options

Non-Illuminated

Ring

Dot

Max. Panel Thickness:

0.394" (10.0mm)

Terminal

Pin(2.8x0.5)

Max. Switch Rating

5A/ 250VAC

Contact Resistance

≤50mΩ

Insulation Resistance

≥1000mΩ

Dielectric Strengh

2000VAC

Operation Temp.

-20°C ~ +55°C

Mechanical Life

1,000,000cycles

Electrical Life

>50,000cycles

Contact Material

Silver Alloy

Torque

5 ~ 14Nm

Operation Pressure

3 ~ 8N

Protection

IP65

Material

Actuator

Stainless Steel/ Anodized Aluminum

Body

Stainless Steel/ Anodized Aluminum

Base

PA

Color

Type

LED (ratings @ 20mA)

Color

R-Red

Y- Yellow

O- Orange

G- Green

B- Blue

W- White

Luminous Intensity (mcd)

160

200

150

520

220

2000

Forward Volatge

1.8~2.6

2.8~3.6

Illumination Voltage

no suffix No resistor fitted. An appropriate resistor must be series connected by the user. Voltages as above.

6V/ 12V/ 24V/ 36V/ 110V/ 230V

Life

Approx. 40, 000hours